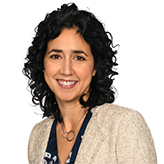 Catherine Origlieri, M.D., is a Pediatric Ophthalmologist at Northwest Eye, specializing in pediatric ophthalmology and pediatric eye alignment.
She followed her graduation from New Jersey Medical School with an internal medicine internship at Georgetown University and then an ophthalmology residency at New Jersey Medical School. Dr. Origlieri then completed a fellowship in pediatric ophthalmology and strabismus at Children's National Medical Center in Washington D.C., where she worked as a pediatric ophthalmologist for another three years following completion of her training. Her role as an Assistant Professor of Ophthalmology and Pediatrics at The George Washington University gave her the responsibility of training surgical and clinical fellows and residents. After returning to her home state of New Jersey, Dr. Origlieri worked in private practice for four years as a pediatric ophthalmologist.
In addition to training future doctors, Dr. Origlieri is very dedicated and well published in the ophthalmology field. She has written multiple peer-reviewed journal articles, two textbook chapters, and has presented at national and international meetings. She is also certified by the American Board of Ophthalmology and is a Fellow of the American Academy of Ophthalmology and member of the American Association for Pediatric Ophthalmology and Strabismus.
Her education, work history and devotion to the advancement of ophthalmology reflect her commitment to provide the best vision possible for all her patients.
Dr. Origlieri is accepting new patients and is excited to provide routine and specialty eye care for infants, children, and teens out of our Minnetonka and Woodbury offices. If you are looking for a partner in your family's eye care, schedule an appointment today!