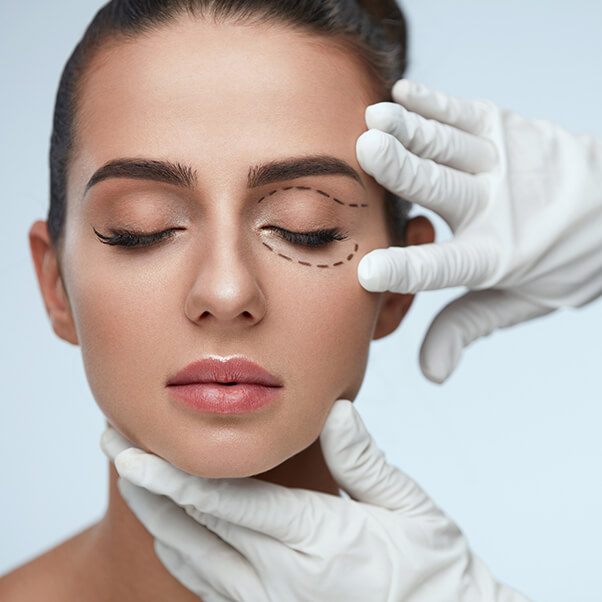 People are often bothered by their eyelids as they get older. With age, droopy eyelids can be a nuisance, both cosmetically and medically. Did you know that certain eyelid conditions, including drooping lids, can impair your vision? Puffiness or bags under the eyes can also make you appear tired.
Be Eye Wise and see how oculoplastic and cosmetic procedures can not only help you to see better but can also improve your appearance and eye health.
Schedule a consultation with Northwest Eye ophthalmic plastic and reconstructive surgeon, Dr. Nicholas Schmitt. Dr. Schmitt can help you understand your treatment options for oculoplastic surgery, cosmetic injections, and simple aesthetic treatments. He specializes in treating the eyelids' abnormalities, tear duct system, the orbit (the bony cavity surrounding the eye), and the face.
What is Blepharoplasty?
Upper Eyelid Blepharoplasty surgery is a type of facial plastic surgery that involves removing excess skin and fat in the upper eyelids. It is performed through a cosmetically hidden incision in the lid crease, allowing the surgeon to reshape the upper eyelid contours.
Removal of extra skin brings out the human eye's natural beauty and creates a more youthful appearance. If the eyelids are drooping enough to interfere with vision, insurance may cover the procedure. Mild drooping that impacts appearance but does not interfere with sight can be addressed with cosmetic eyelid surgery.
Lower Eyelid Blepharoplasty is typically done for cosmetic purposes to lift and tighten the skin around the lower eye area, reducing bags, puffiness, and wrinkles.
Does it Take a Long Time to Recover from Blepharoplasty?
Recovery varies based on the exact procedure performed and the individual patient. In general, there is bruising and swelling of the eyelids after the procedure.
We advise patients to plan on being at home for a few days. During this time, frequent icing applied to the eyelids will help to reduce bruising and swelling. After several days, most patients can drive a car and move around without much difficulty.
Patients should avoid heavy lifting and strenuous exercise for two weeks following surgery.
---
What is Ptosis?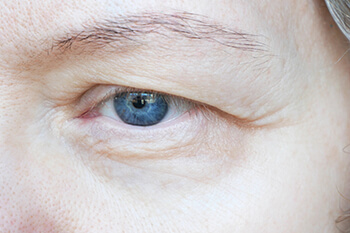 Ptosis is a condition in which the eyelids droop over the eye, sometimes covering the black pupil. Ptosis can interfere with or block vision altogether.
It is usually caused by the lifting muscles separating from the eyelid due to aging or trauma in adults. Ptosis is a medical condition that can be repaired by surgery and is usually covered by insurance.
Brow ptosis typically occurs from aging and sagging of the soft tissue and skin above the brow. Brow ptosis can put pressure on the upper eyelids, causing difficulty with activities such as reading or driving. Surgical brow lift procedures are often performed to correct droopy eyebrows.
---
What is Thyroid Eye Disease?
Thyroid eye disease and thyroid disease are believed to be autoimmune disorders. In thyroid eye disease, the immune system sets off an abnormal reaction to the muscles and fatty tissue around the eyes. Many patients with thyroid eye disease will have abnormal blood tests for thyroid hormone levels, but some patients have eye symptoms even though the hormone levels are normal.
---
What is a Blocked Tear Duct?
A healthy eye contains a natural drainage system through the tear ducts. When the drainage system is blocked, tears are unable to drain normally.
In adults, a blocked tear duct may develop because of aging, an injury, an infection, cancer treatment, or in rare cases, a tumor. The eye becomes watery and can quickly become inflamed or infected.
---
What Are Ectropion and Entropion?
Ectropion is the medical term for sagging and outward drooping of the eyelids. Entropion is a condition in which the lower eyelid is rolled inward towards the eye.
When the eyelids are not in the proper position, patients can experience eye irritation, tearing, pain, and chronic discharge. Dr. Schmitt can treat both conditions with surgery.
---
Cosmetic Treatments at Northwest Eye
What is BOTOX®?

BOTOX® is a quick and safe way to help you look years younger with smoother skin! This popular injectable reduces or eliminates facial fine lines, wrinkles and crow's feet lines near the eyes.
BOTOX® is a purified protein that is isolated from a microorganism. It has been used to treat migraine headaches for many years, along with other medical health conditions.
View Video
---
What is Juvederm®?
Juvederm® is an injectable dermal filler that restores lost volume around the face and eyes without surgery. It is made of a cross-linked hyaluronic acid, which is a natural substance in the skin. Its primary function in the skin is to retain moisture that increases fullness.

As the aging process occurs, it's natural to lose hyaluronic acid from the skin, resulting in a deflated appearance.
View Video
Injecting Juvederm can increase the fullness and inflate the skin, with a low risk of an allergic reaction.
What is Latisse®?
Latisse® is an FDA-approved medication (bimatoprost ophthalmic solution, 0.03%) prescribed to lengthen, thicken, and darken eyelashes. This particular eyelash growth serum is the only one approved by the F.D.A. and requires a medical prescription.

Latisse can cause some temporary but undesirable side effects. Some people develop eye redness and irritation or dark eyelid skin. Also, some people have experienced permanent darkening of the iris.
Many over-the-counter prescriptions claim to mimic the effects of Latisse. However, these medications aren't made of the same chemical compound and the F.D.A. has not tested the safety and effectiveness of these other medications.
Dr. Schmitt can discuss the risks and benefits of Latisse® with you and instruct you on using it properly.
What is Obagi Skin Care?
Obagi Skin Care is a line of skincare products that have been scientifically researched and formulated to transform aging skin. In addition to providing overall skin toning, it works on dark spots and hyperpigmentation.

Obagi Professional -C® Products contain L-ascorbic acid to help strengthen anti-oxidant defenses and maintain more youthful-looking skin. Its retinol products help with fine lines and wrinkles.
Obagi requires a medical prescription. Make an appointment for a aesthetic consultation today with Dr. Schmitt and get started with Obagi's revolutionary skin products.