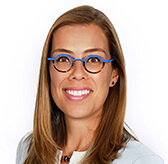 Alejandra Decanini, M.D., joined the Northwest Eye team as a dedicated pediatric ophthalmologist in August of 2020. Dr. Decanini has extensive experience and sub-specialty training in diagnosing and treating young patients with all types of strabismus (misaligned eyes) and double vision. She looks forward to providing routine and specialty eye care for infants, children, and teens out of our Maple Grove, Minnetonka and Woodbury offices.
Dr. Decanini is an award-winning doctor, recognized with the Harry Plotke Award for her clinical skills, compassion, and patient-centric approach. She proudly won the Best Teaching Faculty Award and has earned a spot on Minnesota Monthly's Top Doctors list for the last four consecutive years.
Dr. Decanini joins us from the Hennepin Healthcare Ophthalmology department here in Minnesota where she's specialized in Pediatric care since 2015.
Dr. Decanini completed her internship and residency in ophthalmology at the University of Minnesota where she continued on to complete a Fellowship in Pediatric Ophthalmology and Strabismus at the Lions Children's Clinic in Minneapolis.
Dr. Decanini is passionate about working with families to find treatment solutions that maximize vision and quality of life in even the youngest of patients. She speaks Spanish and is excited to be part of the Northwest Eye team.