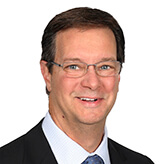 Timothy J. Ehlen, M.D., is a comprehensive Ophthalmologist and partner at Northwest Eye in Minnesota, specializing in cataract glaucoma and refractive surgery, including LASIK and PRK. He has been a member of Northwest Eye's respected team of doctors since 1998.
Dr. Ehlen received his undergraduate B.A. degree in chemistry from St. Olaf College in Northfield, Minnesota. After a year of post-undergraduate work in the discipline, his true calling for medicine became apparent. He received his Doctor of Medicine degree from the University of Minnesota Medical School. It was in medical school when his calling to the ophthalmologic field was realized. After an internship at Hennepin County Medical Center, he went on to complete his ophthalmology residency at the University of Minnesota and received additional training in LASIK refractive eye surgery. He maintains a position at the University of Minnesota as a clinical assistant professor of ophthalmology.
Dr. Ehlen is board-certified by the American Board of Ophthalmology and is a member of many professional organizations including the American Academy of Ophthalmology, Minnesota Academy of Ophthalmology, International Society of Cataract and Refractive Surgery, American Medical Association, Minnesota Medical Society, and the Twin Cities Medical Society. Dr. Ehlen is a member of the adjunct faculty staff at the University of Minnesota Medical School, teaching medical students and residents on a regular basis. Dr. Ehlen also serves as a physician advisor on several corporate/institutional boards, helping to bridge the corporate world with the realities of hands-on patient care. He has been listed as a "Top Doctor" by Mpls./St.Paul magazine.
When not in the office, Dr. Ehlen and his wife enjoy spending time with their four children, and are involved in many volunteer activities in their community, school, and church. Dr. Ehlen enjoys coaching his children from the very young levels, as he can be seen at a hockey arena or a lacrosse or soccer field most days of the year. He also has a love for the outdoors, where he enjoys running, biking, downhill skiing, golfing, yard work and backyard fires with friends and family.
Dr. Ehlen sees patients at our Golden Valley, Maple Grove, St. Anthony, and Wayzata Northwest Eye locations.