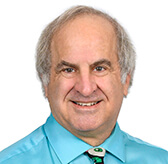 Richard S. Freeman, M.D., is a Pediatric Ophthalmologist and partner at Northwest Eye in Minnesota, specializing in adult and pediatric eye alignment and the treatment of pediatric eye diseases. He joined Northwest Eye's respected team of doctors in 1998 after a decade in practice locally.
"In an effort to help as many as I can in the time I have been granted, I have been honored to lecture, teach, and operate around the world. But as the first full time private practice pediatric ophthalmologist in Minnesota, I have had the privilege and the task of improving the eye care of children in this state for over 3 decades. As a lifelong Minnesotan, I take the greatest pride in being able to write that statement."
– Dr. Freeman
Dr. Freeman was inspired to pursue a career in medicine by his immigrant grandfather, who felt doctors deserved great respect for what they do, and his oldest brother, who preceded him in his own medical career by five years.
In his spare time, Dr. Freeman enjoys spending time with his wife, Linda, a communications professor. Their two grown sons are thriving in their careers of law and medicine. Dr. Freeman is a lifelong Twins, Vikings, and Timberwolves fan. He also enjoys traveling around the world with his family, and has participated in a variety of medical missions in Central America, South America, Europe, Asia, and Africa.
Dr. Freeman is known for his comic antics, and his vast assortment of colorful, cartoon-inspired ties. He believes that engaging children as valued individuals and fully educating parents are the keys to a successful practice and treatment outcomes. He clearly enjoys his work, and based on the sounds of laughter that constantly surround him at work, his patients clearly enjoy him as well.
Dr. Freeman sees patients at our Maple Grove Northwest Eye location.