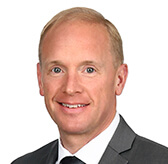 Dr. Brian Hamann is an Optometrist at Northwest Eye practicing comprehensive optometry, including the treatment and management of ocular pathology with a specialty in contact lenses. He is certified by the Minnesota Board of Optometry and the National Board of Examiners in Optometry. Dr. Hamann has been an active member of Northwest Eye's respected team of doctors since June 2000.
Dr. Hamann makes productive use of his time away from his practice. He enjoys sharing his talents with those less fortunate, traveling on eye care mission trips with his wife to remote, underserved locations. Their work has taken them to many different parts of the world. He also enjoys mentoring young men at church, coaching his son's baseball team, playing drums, rollerblading and biking with his wife and their three children.
Dr. Hamann's eye care experience as a child inspired him to pursue his career in optometry. He enjoyed going to the optometrist and having his prescription updated so that his vision was sharp again.
Schedule an appointment with Dr. Hamann at our Maple Grove and St. Anthony offices to ensure your family is seeing sharp!