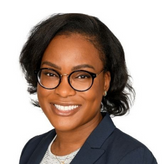 Please join us in welcoming Dr. Ijeoma S. Chinwuba to Northwest Eye! Dr. Chinwuba is a fellowship-trained, board-certified ophthalmologist specializing in diabetic eye care and Comprehensive Eye Care.
Dr. Chinwuba received her undergraduate degree in Neuroscience from Dartmouth College, where she also pursued interests in global health and health equity. She was then a research assistant in Massachusetts General Hospital's Department of Pediatric Neurosurgery before attending the Perelman School of Medicine at the University of Pennsylvania where she earned her medical degree. During medical school, she was awarded the James Herbert Robinson four year scholarship and discovered her love of ophthalmology through her time as a research assistant at the Children's Hospital of Philadelphia Department of Ophthalmology.
Dr. Chinwuba completed an ophthalmology residency at NYU followed by a pediatric ophthalmology fellowship with Emory University and thus has experience with your eye care needs at any stage of life. She grew up in Chicago and practiced comprehensive ophthalmology there prior to moving to Minneapolis.
Dr. Chinwuba is accepting new patients at our Wayzata, Maple Grove, and Golden Valley offices. Dr. Chinwuba is proud to partner with you and your entire family on whatever your vision goals may be.