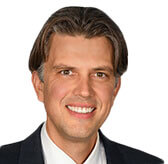 Jesse A. Dovich, M.D., is a comprehensive ophthalmologist specializing in Glaucoma and Cataract Surgery at Northwest Eye. Dr. Dovich offers advanced lens implant solutions for cataracts, including light-adjustable lenses. Dovich is accepting new patients at NWE offices in Golden Valley, Maple Grove, St. Anthony, and Wayzata.
Dr. Dovich grew up in the small orchard town of Tonasket Washington. He graduated Suma Cum Laude with a Bachelor of Science in Business Administration with an Emphasis in Science from Union College in Lincoln Nebraska. He was distinguished as a top student in the business department and awarded an all-expense paid trip to Chicago to attend a national conference for Students in Free Enterprise.
He completed medical school in 2003 at Loma Linda University Medical School followed by a transitional year internship at the San Bernardino County Hospital and then an Ophthalmology residency at Loma Linda University Eye Institute. During his residency Dr. Dovich presented five different clinical research projects at both national and international meetings, including The Association for Research in Vision and Ophthalmology (2005, 2006, 2007), The North American Neuro-Ophthalmology Society (NANOS), and the Pan-American Association of Ophthalmology (PAAO).
Dr. Dovich is board-certified by the American Board of Ophthalmology and maintains a prominent role in the Ophthalmology community as an active member of both American Society of Cataract-Refractive Surgeons and the American Academy of Ophthalmology. He also held a Clinical Instructor position in the Department of Ophthalmology at Loma Linda University in Southern California from 2007 through 2021.
Among others, his most notable achievements include being recognized as "Most Compassionate Doctor" (2011, 2013, 2017, 2018) and "Top Doctor Honors Edition" in the community on multiple occasions.
Dr. Dovich was previously a managing partner of Pacific Eye Institute in Southern California where he combined advanced training with a wealth of knowledge and experience to provide extraordinary patient care in the treatment of both common and complex eye diseases – including both cataracts and glaucoma.
Dr. Dovich is passionate about international ophthalmology and has led surgical expeditions to Dominican Republic (2007), Peru (2009, 2010, 2011, 2012, 2013, 2014), Mexico (2013), and Tanzania (2014). He serves on the Board of Directors for Adventist International Eye Services and the Board of Directors for Sight Restoration International. He is also president-elect of the Alumni Association of the School of Medicine at Loma Linda University.
Joining the Northwest Eye family in 2021, Dr Dovich offers patients routine and specialty eye care out of our Golden Valley, Maple Grove, St. Anthony, and Wayzata offices.
When Dr. Dovich is not providing exceptional care to his patients in the office he likes to spend his free time playing on the swing set with his young family, golfing, backcountry skiing, cycling, and traveling. Dr. Dovich speaks both English and Spanish.