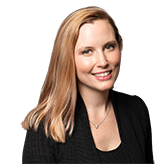 Mila J. Heersink, M.D., joined the Northwest Eye family in 2021 offering routine and specialty eye care to patients out of our Golden Valley and Wayzata offices.
Her patient-first approach to care includes helping her patients find treatment plans uniquely suited to them. Dr. Heersink combines her experience with the most advanced technologies to help produce positive results for her patients.
Dr. Heersink received her undergraduate degree and her Doctor of Medicine degree from the University of Alabama at Birmingham. After an internship at Harbor Hospital in Baltimore, she completed both her residency and cornea fellowship at the number one training program in the country for ophthalmology, Wills Eye Hospital. During those years of training, she was fortunate to learn from world-renowned leaders in the eye care field.
Dr. Heersink is board certified by the American Board of Ophthalmology, a member of the American Society of Refractive and Cataract Surgery, and the American Academy of Ophthalmology.
Dr. Heersink was born in Alabama but spent part of her childhood in the Netherlands. She was accepted into medical school as a high school student and graduated college a year early. She has spent a significant portion of her education abroad through volunteering or work-study programs and has devoted time to ophthalmology mission work internationally.