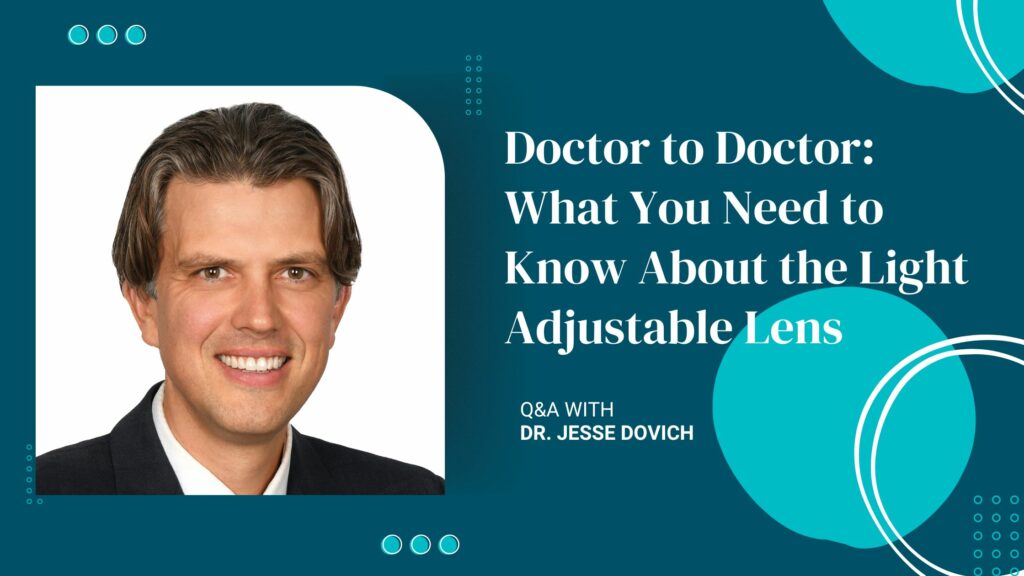 The Light Adjustable Lens is a new and exciting lens technology now available for cataract patients at Northwest Eye. While most cataract surgery requires patients and doctors to select a lens power before surgery, this new lens offers patients the opportunity to customize their vision after cataract surgery. Dr. Jesse Dovich, a cataract specialist and surgeon at Northwest Eye, offers deeper insight into this new customized lens for cataract patients.
The Light Adjustable Lens works by utilizing UV light rays to adjust the polymers within the optic of the lens, which creates customized vision targets after surgery. The cataract surgery itself is the same; the cataract is removed and replaced with a new intraocular lens. What makes the Light Adjustable Lens unique compared to other lens options is the polymer material within the lens. These photosensitive polymers allow us to imprint the residual refractive error into the lens, which will maximize clarity for either distance or near vision. This allows the lens to be adjusted after surgery to your vision goals for the clearest vision possible.
After traditional cataract surgery (with a standard intraocular lens), patients will likely wear glasses for many activities. With Light Adjustable Lenses, the prescription can be adjusted after the procedure to the patient's desired vision goals. Once the eye is healed, a prescription measurement will be taken and imprinted into the lens with a proprietary light treatment. Over the course of a few sessions, patients can try different prescriptions and adjust their preference, before the final "lock-in" treatment. This ability to customize the lens power, test drive different vision types, and select a final vision after surgery was not possible before the advent of Light Adjustable Lenses.
In the weeks following surgery with the Light Adjustable Lens, patients will be provided UV-blocking glasses to protect the lens from sunlight. These are recommended to be worn during all waking hours until the last light treatment is complete. The patient and their doctor will work through a few light treatment sessions to achieve the desired visual outcome. The lens will be customized at each light session, which allows the patient to decide what prescription works best for them.
Generally, the initial light treatment will occur 2–3 weeks after the cataract surgery is complete. The follow-up light treatments are usually scheduled every 3 days after the first treatment, with most patients receiving a total of 2-4 light treatments. Once the desired prescription is achieved, the doctor will use a final light treatment to lock the lens, so its prescription never changes.
Since this technology incorporates both the pre-operative measurements of the eye and the post-operative healing into the final prescription, the need to delay and separate the surgery between the two eyes is less important. Many patients planning to have surgery in both eyes are offered the option of same-day bilateral cataract surgery, so both eyes can be adjusted with the light treatments simultaneously. Please discuss this with your surgeon to see if you are a candidate.
Yes, the Light Adjustable Lens can be a great option for patients who have been diagnosed with astigmatism. Most patients with less than three diopters of astigmatism would be excellent candidates for this lens. It is especially useful for patients with a previous history of LASIK surgery, as they have elevated expectations for excellent vision, and sometimes the ability to optimize vision with older cataract lens technology is limited in a post-LASIK eyeball as the LASIK surgery induces subtle changes in most corneas.
Wonderful vision! Patients with the Light Adjustable Lens can see far enough to drive, read the dashboard of their car, and then pick up items in the grocery store to read the labels. While patients may prefer a light pair of reading glasses when reading very fine print, most daily activities will be free of glasses or contacts for Light Adjustable Lens patients. In addition, this technology does not use trifocal rings to generate sweet spots in the vision, so the Light Adjustable Lens has minimal risk of post-surgical glare and halos.
A great candidate is anyone wanting the widest range of functional vision with the least amount of glare and halos after surgery. Many LASIK patients who are told they are not great candidates for Trifocal Lens Technologies, or other Advanced Package Technologies, may be candidates for a Light Adjustable Lens, as it can compensate for some LASIK-induced changes created in the cornea during LASIK surgery.
This is usually used for both eyes at, or around, the same time as the maximal benefit comes when targeting the dominant eye for distance and the non-dominant eye for near. That said, I have had great patient satisfaction for some patients using LAL technology unilaterally in their dominant eye to target distance vision. Both eyes start off slightly hyperopic, and the process of adjusting the polymers induces some positive spherical aberration, which maximizes the depth of focus and truly blends the two eyes together. I have many patients that are 20/20 J3+ dominant and 20/25 J1+ non-dominant, essentially capturing 80%+ of the visual range in each eye with a very wide zone of overlapping vision. Unlike traditional mono-vision, with a tight band of focus at distance and another at near, these LAL patients feel comfortable, adapt quickly, and do not report an imbalance between the eyes. If a patient is requesting mono-vision with Toric IOLs I am always cautious to confirm they have experienced mono-vision in the past (either with LASIK or CTL use), and if not, I have them do a trial as patients have flexibility after surgery to adjust their prescription to their liking. Some patients enjoy bilateral distance targets; others prefer mini-mono or mono-vision. We target functional outcomes, such as "reading your phone, working on a computer, or seeing violin sheet music" to make sure they are thinking in terms of functional vision optimization during the post-surgical light treatments.
Commonly, this is used in both eyes; however, this technology can be placed in only one eye (ex: if the first eye is already pseudophakic and the patient is now undergoing their second eye surgery) in scenarios where the patient has a primary target, like distance, in mind before the surgery. In fact, one of my patients has severe POAG in her right eye and mild POAG in her left eye. She was convinced she wanted the LAL in her worse eye to do everything possible to maximize her chances of having the best vision, but she could not afford the technology in both eyes. After extensive conversations with her to confirm her selection, we proceeded as she requested with LAL in the right eye and traditional surgery in the left eye. She now reports the highest vision satisfaction outcome in the most severe glaucoma eye as her other eye has a mild amount of post-operative astigmatism.
I have used this, with good benefit, for patients with an 8-cut RK incision and slightly irregular post-LASIK corneas. I explain upfront, that the traditional technologies are not able to compensate for the post-surgical changes. Patients are informed that this technology will give them their best chance of optimizing their vision, even though it may be slightly unpredictable with irregular corneas. Patients are happy knowing they've done everything possible with modern technology to optimize their outcomes, and if a light prescription is needed for various visual tasks, patients are still highly satisfied.
Patients with prior iritis, pseudoexfoliation, or other organic reasons for poor pupillary dilation, h/o Flomax usage, or any iris trauma or pathology may not be a great candidate for the technology as you need at least 7mm dilation on exam for the UV treatment process to be successful.
To explain the concept of "adjustments" to the patients and how the treatment process works for the lens polymers, I ask the patients to think about a sheet of bubble wrap. When we first discover bubble wrap in a shipping package, none of the bubbles have been popped. This is similar to the LAL; all of the adjustable polymers are naïve and ready to be manipulated by UV light. Once we start imprinting the prescription into the eye, we begin a process akin to "popping bubbles on the bubble wrap." This allows us to adjust the vision two or three times prior to the final lock-in. The final treatment is a process that "pops the remaining bubbles" so the IOL becomes extremely stable and will not optically shift in the future when exposed to UV light from the environment. Therefore, we can induce the largest magnitude of change in the prescription during the first lock-in treatment, with diminishing amounts of prescription changes with each subsequent treatment. Most patients are highly satisfied with their vision after the first treatment and request a "final lock-in."
Recently, I have ex-planted the PanOptix IOLs from a patient who could not tolerate the glare or halos generated by the trifocal technology and replaced her lenses with Light Adjustable Technology. She is currently healing and about to start the imprinting process. I will be extremely interested in how she describes the difference between the two technologies, as she will have first-hand experience with both.
Referring a patient to Northwest Eye has never been easier with our new Online Referral Form. Click here to refer online or call (763) 416-7600.