Posted by: Northwest Eye in News on April 27, 2017
We are truly honored and thankful to our loyal patients for helping us reach 45 years of excellence. On Friday, March 24, 2017, we are celebrating our 45th anniversary as an ophthalmology specialty clinic!
Northwest Eye was established on March 24, 1972 with our first two clinics in Wayzata and Robbinsdale. We have endured massive changes in regulations, technology and availability of healthcare over the years but our passion has always been in providing our patients with excellent care and clinical and surgical expertise.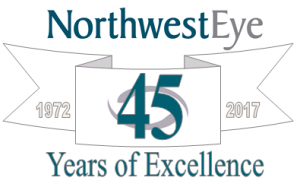 Share Your Stories
We are so thankful for all of our patients that have joined the Northwest Eye family over the years. Many of us get the chance to treat patients whose family (their parents and children) have all received care from us. It's so fun to also talk to patients who have trusted us with their eyes for all 45 years of our existence. We would like to share some of these stories with our patients and staff. If you would like to participate in this milestone please send your stories to crasmussen@ or submit them on our contact us page.
Thank you again to all of our patients for helping us achieve this 45 year anniversary! We promise to continue to strive for excellence and to be the trusted place where patients of all ages and conditions can go to learn about, understand and improve their eye health for another 45 years!
---