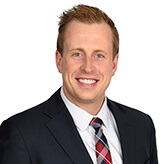 Christopher Kruthoff, O.D., FAAO, is an optometrist serving Northwest Eye's Golden Valley and Wayzata offices. As a true partner in his patients' eye care, Dr. Kruthoff is committed to helping patients 'Be Eye Wise' and fully understand the unique situations of their eyes. Dr. Kruthoff specializes in routine checkups, treatment of acute eye problems, management of ocular disease, perioperative care, glaucoma, cornea, and pre and post-operative cataract care.
Dr. Kruthoff completed his undergraduate degree at the University of Iowa, majoring in Biomedical Engineering. He earned his Doctor of Optometry degree at the Illinois College of Optometry, where he graduated Cum Laude. Following graduation, he completed a residency in ocular disease at Omni Eye Services of Atlanta, further building experience in the medical management of cornea, glaucoma, cataract, and retinal conditions.
Before starting at Northwest Eye, he worked at a multispecialty ophthalmology clinic in Virginia, working with surgeons in all specialties to provide co-managed care for patients. He is a Fellow of the American Academy of Optometry and is a member of the American Optometric Association, the Minnesota Optometric Association, and the Optometric Cornea, Cataract, and Refractive Society.
When not in the office, Dr. Kruthoff is an avid sports enthusiast, both as a fan and as a participant in recreational sports. He also enjoys cycling and traveling.