Posted by: Northwest Eye in Events, News on September 25, 2023
Stop by Northwest Eye Optical and join us for our Fall Trunk Shows!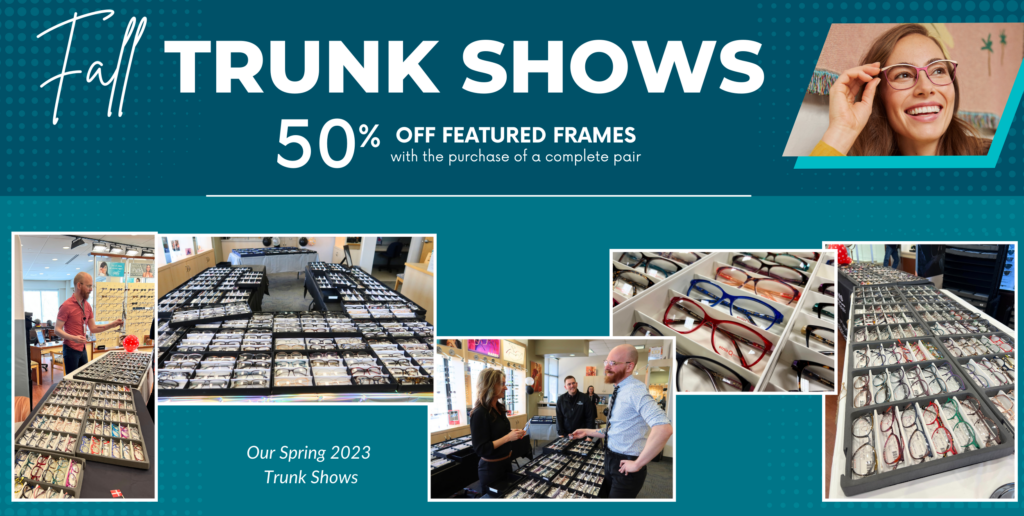 Shop the latest brands and styles before anyone else.
What is a Trunk Show?
Looking for a new frame is one of the most exciting parts of wearing glasses, and going to a trunk show can really rev up the excitement. At a trunk show, the designer or their representative brings his or her entire collection (yes, in trunks!), and provides personal fitting consultations. The vendors bring in hundreds of frames so you can view all the different styles, colors, and materials at one time.
How does a Trunk Show differ from shopping at Northwest Optical on any given day?
The featured vendor unveils the newest frames that are just released, including inventory that you normally wouldn't see every day in our optical store. We time our Trunk Shows so patients can preview and/or purchase frames before most stores even get them into stock.
How often do Northwest Eye Trunk Shows happen?
They only happen twice a year, and one of our biggest discounts is happening right now at our fall Trunk Shows!
Will there be someone at the Trunk Show to help answer my questions?
Yes! Vendors will be onsite to answer specific frame related questions, as well as Northwest Eyewear's certified opticians who will be there to help with the ordering process and make sure your prescription is all set.
What kind of discount is offered at the Fall Trunk Shows?
50% off featured frames with the purchase of a complete pair!
Where are the Trunk Shows taking place?
Maple Grove:
Oct. 16th | 11:00 a.m. – 4:00 p.m.
Brands: Fysh, Kliik, Evatik, Life Italia, and Superflex kids
___________________________________

St. Anthony:
Oct. 17th | 11:00 a.m. – 4:00 p.m.
Brand: Lafont
___________________________________

Wayzata:
Oct. 23rd, 11:00 a.m. – 4:00 p.m.
Brands: Prodesign and Woow
___________________________________

Golden Valley:
Oct. 31st, 11:00 a.m. – 4:00 p.m.
Brands: Gucci and Montblanc
___________________________________
What patients have to say about the Trunk Shows:
"I went to the trunk show last fall and after a year of looking for glasses, finally purchased a pair! I was always concerned I'd have buyer's remorse – that the moment I purchased a new pair of glasses, I'd find one at another location that I liked better. With hundreds of different frames all in one spot at the Trunk Show, I felt confident that the one I chose was the perfect frame. One year later, I still love my glasses!"
– Becky G., NWE patient
---