Posted by: Northwest Eye in News on February 13, 2023
Be Eye Wise: An Eyelid Lift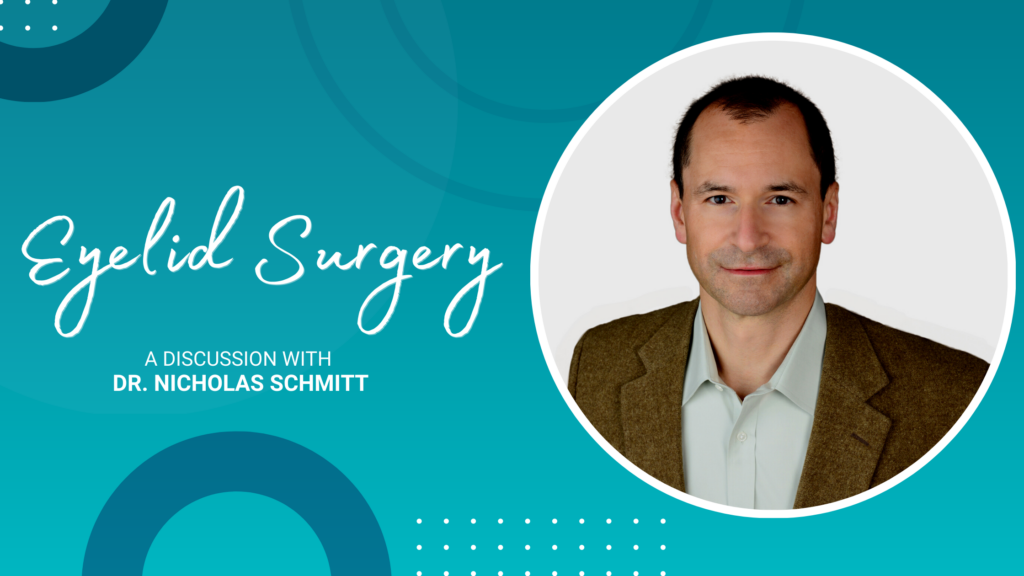 Dr. Nicholas Schmitt is our Ophthalmic Plastic and Reconstructive Surgeon at Northwest Eye, specializing in the surgical treatment and management of conditions that affect the eyelids, lacrimal (tear) system and the orbit (the cavity surrounding the eye). Dr. Schmitt joined Northwest Eye in 2005 and has been helping patients with both medical and cosmetic treatments ever since.
We asked Dr. Schmitt a few questions about one of the most common oculoplastic procedures performed at Northwest Eye: An Eyelid Lift (Blepharoplasty).
When should patients consider seeing an oculoplastic surgeon for an eyelid evaluation?
There are a variety of symptoms that warrant scheduling an eyelid evaluation to see if you're a good candidate for an eyelid lift (also known as an Upper Eyelid Blepharoplasty). Some patients will notice their eyelids feel heavy in the evening, or that they need to hold their chin up a little to see through the bottom of their lids. If your vision is being obstructed in any way by your eyelids, it's time to schedule an evaluation.
In addition to the upper eyelids, I can treat puffy lower eyelids and wrinkles around the eyes. The Lower Eyelid Blepharoplasty is done for cosmetic reasons and not covered by insurance but is oftentimes performed at the same time as an Upper Eyelid Blepharoplasty.
Of the patients you see for eyelid evaluations, what percentage would you guess qualify for insurance coverage of the surgery?
Most symptomatic patients who present for consideration of upper blepharoplasty qualify from an insurance perspective; I'd say over 80%.
It's common for many insurance plans to cover an Upper Eyelid Blepharoplasty if it's deemed medically necessary. If the eyelid is interfering with your vision, it could be considered medical and sent through your insurance company. During an evaluation, our team performs testing to better understand if you'd qualify for insurance coverage.
What is the recovery like following a blepharoplasty?
Bruising and swelling for 1-2 weeks is normal following blepharoplasty and can differ from patient to patient. Many patients return to work and their daily activities approximately 7 days after surgery. Most patients can drive after 24 hours. We suggest using ice packs at home for the first few days and have lifting restrictions in place during your recovery. Everyone heals differently, but most patients can expect to see results 2-4 weeks after the procedure.
To schedule your eyelid evaluation with Dr. Schmitt, call us at (763) 416-7600.
---