Posted by: Northwest Eye in News on January 10, 2023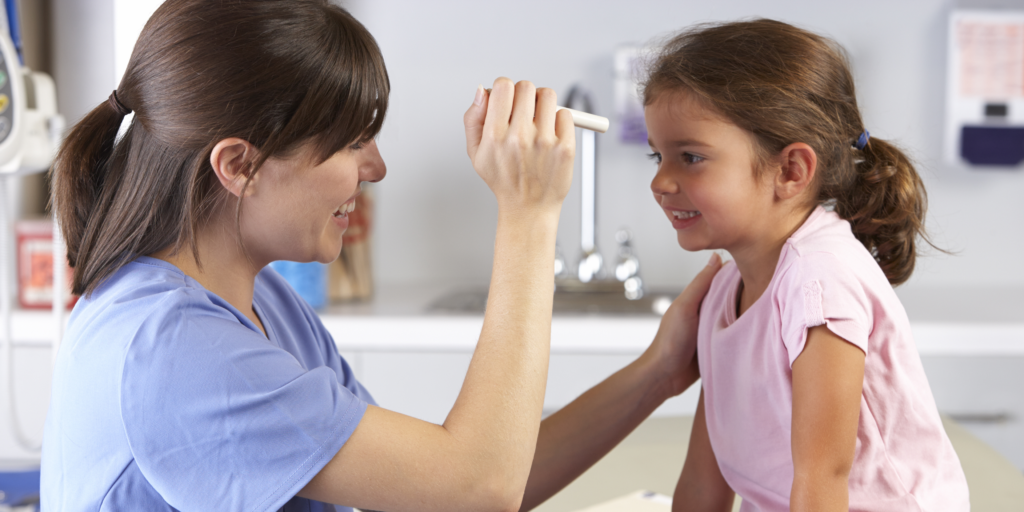 At Northwest Eye, we have four pediatric ophthalmologists and one pediatric optometrist who specialize in children's eye health. Our pediatric locations include Minnetonka, Maple Grove, and Woodbury.
Dr. Catherine Origlieri specializes in pediatric ophthalmology and pediatric eye alignment. In addition, she is certified by the American Board of Ophthalmology, is a fellow of the American Academy of Ophthalmology and is member of the American Association for Pediatric Ophthalmology and Strabismus.
We had a chance to discuss several pediatric eye care questions with her. Read below to find out common questions to is what we learned from her:
When do you recommend children have their first eye exam?
Children who do not pass their vision screening test at the pediatrician's office or at school should have a complete eye exam. Some children and babies need an eye exam earlier in life for other reasons, such as eye crossing/wandering, persistent tearing, or if the child is at risk of eye problems based on their medical history or family history.
How often should kids return for exams?
Some patients, such as those who wear glasses, should have their eyes checked annually. Depending on their diagnosis, other children may need their eyes checked several times per year or more. Your eye doctor can explain what is appropriate for your child and why.
Why is it important to have children brought in for an eye exam, even if they don't appear to have vision issues?
For children who have vision problems in one eye only, vision screening is especially important as these problems could otherwise go undetected. Most children do not notice or complain of poor vision in one eye, and typically there are no signs of a problem until they are tested by a doctor. Some vision problems in children are time sensitive, and early diagnosis and treatment are essential.
What do you do to calm pediatric patients or put them at ease if they are anxious?
Pediatric eye doctors enjoy helping children! We all have our own tips and tricks to keep your child engaged and to make the exam fun.
What activities affect children's vision?
To best protect your child's vision, limit screen time for ages 2-5 to 1 hour per day and eliminate screens for babies under age 2 aside from video chatting. Encourage all children to play outdoors for 1-2 hours per day when the weather permits, as the exposure to natural light decreases our risk of nearsightedness, and of course the exercise is great for our overall health.
Does growing up in different geographies or parts of the world play a role in your vision?
Our vision and whether we need glasses or not depends on many factors, and both our genetics and our environment play an important role.
Dr. Origlieri is accepting new patients and is excited to provide routine and specialty eye care for infants, children, and teens out of our Minnetonka and Woodbury locations.
To schedule a pediatric eye exam with Dr. Origlieri, click here: https://nweyeclinic.com/request-an-appointment/
---