Posted by: Northwest Eye in News on August 11, 2023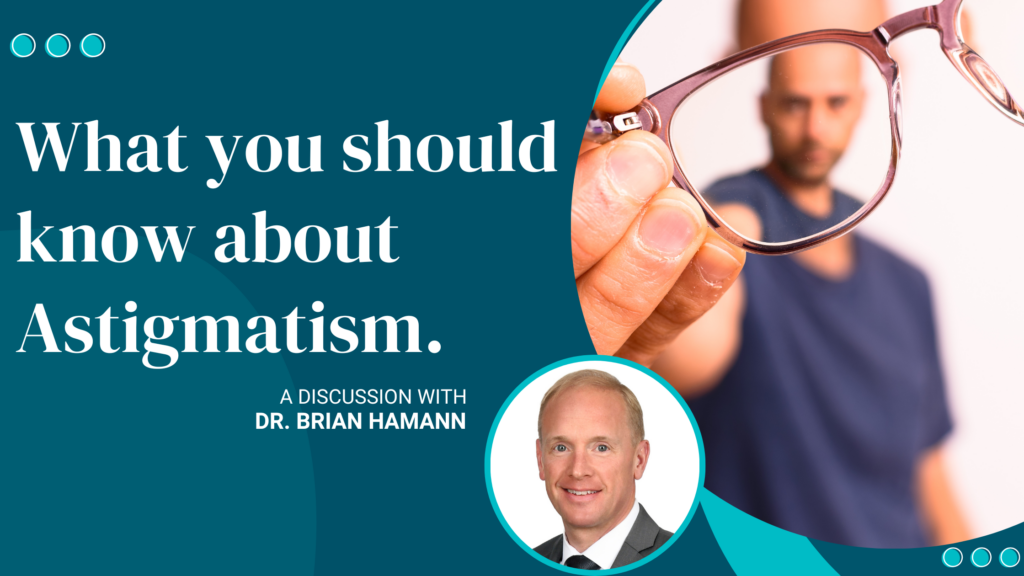 Dr. Brian Hamann is an Optometrist who's been helping patients at Northwest Eye for over 23 years. He specializes in comprehensive optometry, which includes the diagnosis and care of ocular conditions, with a particular focus on contact lenses. We asked Dr. Hamann a few commonly asked questions about astigmatism, which is quite common in older adults.
Q: What is astigmatism?
Astigmatism is a common vision condition that affects the shape of the cornea or lens in the eye, leading to blurry or distorted vision.
Watch the video below to learn more:
Q: What percentage of patients or the population have astigmatism?
Astigmatism is more common in older adults, with around 50% of people over the age of 50 having some degree of astigmatism. Some people have mild astigmatism while others have more severe cases that require corrective lenses or surgery. The number of people with moderate to severe astigmatism is around 10-15% of the population.
Q: How does astigmatism affect a patient's vision?
Astigmatism causes blurred or distorted vision at all distances. It can also cause eye strain, poor night vision, squinting and more.
Q: Does astigmatism get better on its own and could it cause blindness?
Astigmatism does not usually get better on its own. If left untreated, severe astigmatism can cause problems such as eye strain, headaches, and difficulty reading or seeing fine details. However, astigmatism does not usually cause blindness on its own.
Q: When can astigmatism occur?
Astigmatism can occur at any age and can be present from birth. It could also develop after an eye injury or eye surgery.
Q: How can astigmatism be treated?
Wearing glasses or contact lenses can improve vision and reduce symptoms. Refractive surgery, such as LASIK or PRK, can be recommended to treat astigmatism.
Watch the video below to learn more about the treatment:
To schedule an eye exam with Dr. Hamann or one of our comprehensive eye doctors, call us at (763) 416-7600.
---