Posted by: Northwest Eye in News on August 11, 2023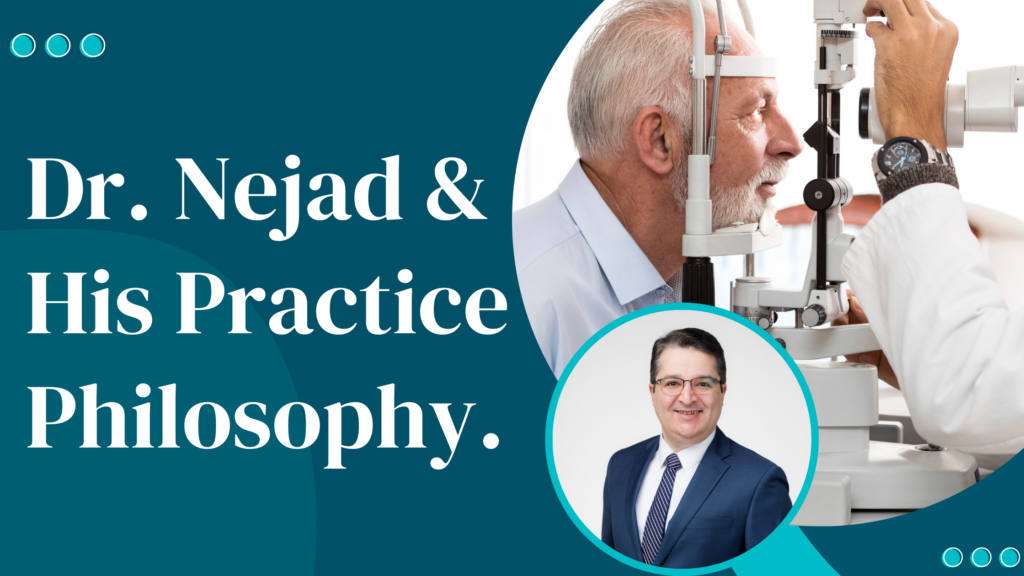 We're excited to welcome to our team Dr. Kamran R. Nejad, a board certified and fellowship-trained Glaucoma and Cataract specialist. Dr. Nejad is very passionate about ophthalmology and helping people. He brings a wealth of knowledge, experience and technological expertise to Northwest Eye. Read on for a quick Q&A with Dr. Nejad.
Q: What are three things you want patients to know about you as a provider?
I treat patients on an individual basis; not one size fits all. Every patient has his/her own lifestyle, preferences, expectations, concerns, and priorities.

I believe managing chronic diseases such as glaucoma is a team collaboration: I rely on my team members (referring doctors, technicians, anesthesiologists, primary care doctors and practice management) and more importantly on my patients and their families.

I prefer to treat "patients" not "diseases." Patients have so many things going on in their life and their medical condition is only one of them.
Q: What's your favorite part about being an eye doctor?
Patients' satisfaction is my favorite and also the most rewarding part of my job.
Q: What made you want to specialize in glaucoma?
There is a lot of unknown about glaucoma and that makes the field very fascinating. Almost every day there are new advancements in the world of glaucoma. The dynamicity of the field was the main reason I chose glaucoma. I also enjoy anterior segment surgeries, mainly cataract surgery, so glaucoma seemed to be the one that offered me the whole package.
Q: What's new in the world of glaucoma?
Nerve regeneration and restoration is the most exciting part of the ongoing research which I hope becomes practical soon, so we could serve our patients with severe glaucoma better.
Q: What are you looking forward to as you join the team at Northwest Eye?
I like the camaraderie at Northwest Eye. People treat each other as family and that's very important. I look forward to an organized and supportive practice that helps me be effective and efficient in delivering the knowledge and experience that I have gained over the past 17 years in Ophthalmology. As a united team, we can overcome any obstacle no matter how challenging it might be.
Schedule an appointment with Dr. Nejad by calling us at (763) 416-7600 or by requesting an appointment below.
---