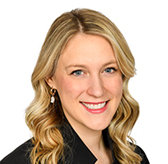 Emily L. Hutchins is an optometrist serving Northwest Eye's Golden Valley, St. Anthony, and Wayzata offices, specializing in comprehensive eye care.
Dr. Hutchins graduated summa cum laude from the Illinois College of Optometry in 2017. As a student, she was an active member of the optometric community serving on multiple boards for student organizations and holding membership with several honor societies including Gold Key International honor society, Tomb and Key honor society, and Beta Sigma Kappa honor fraternity.
She went on to complete a one-year intensive residency at the Minneapolis VA hospital specializing in brain injury, low vision, and primary care optometry. Her education and work history are representative of her commitment to provide the best vision possible for all her patients.
Dr. Hutchins grew up in Le Mars, Iowa and was an avid percussionist from childhood through college. She completed her undergraduate education at Concordia College in Moorhead, Minnesota with Bachelor of Arts degrees in both Music and Biology. In her free time, she enjoys playing her marimba, drinking fancy coffee, antiquing, and exploring new places.